Online Documentation for SQL Manager for Oracle
Restore Database
Restore Database Wizard is intended for restoring your Oracle database from backups. During its work the script to perform restore will be created, which can be edited manually, if needed.
The wizard will guide through the entire process - checking saving backup settings, tuning all the options necessary both for User-managed script and Oracle Recovery Manager restore.
Important: Please note that you must have a clear idea of the backup/restore mechanism. Note that a wrong combination of backup/restore settings can damage your database!
To start the wizard, select the Services |

Restore Database main menu item, or right-click the database in DB Explorer and select the Tasks |

Restore Database item from the context menu.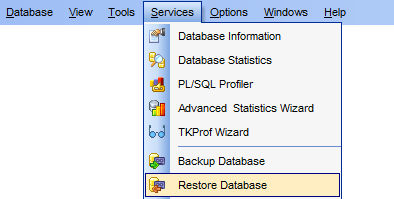 Availability:

Full version (for Windows)

Yes

Lite version (for Windows)

No

Note: To compare all features of the Full and the Lite versions of SQL Manager, refer to the Feature Matrix page.
---