Speed up your DB2 database development process!
Design, explore and maintain databases, build compound SQL query statements, manage database user rights, and manipulate data fast and convenient.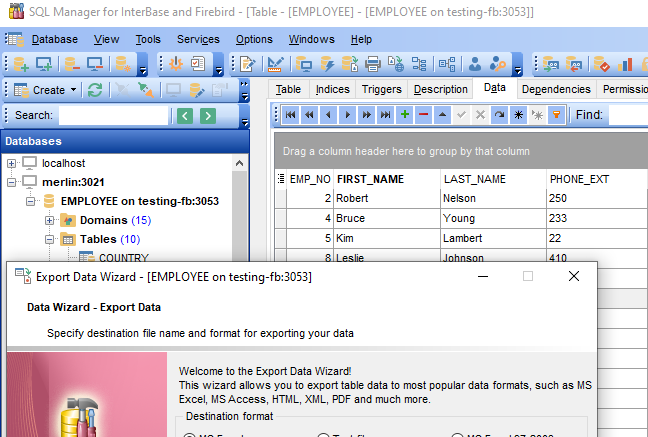 Exploring databases and their objects
Manage the database and its objects with easy-to-use visual editors. Create, edit, duplicate objects and run tasks for them right from the database explorer tree. Customize DB tree look, perform quick search and add objects to Favorites to make work with the database more convenient.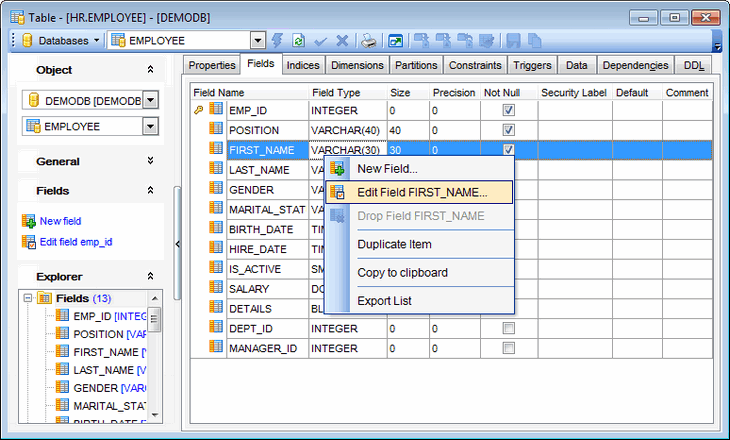 Powerful query editor
Simplify writing of complex queries with code completion feature, info hints, ready simple queries for existing objects. Improve SQL code navigation with customized formatting and code folding.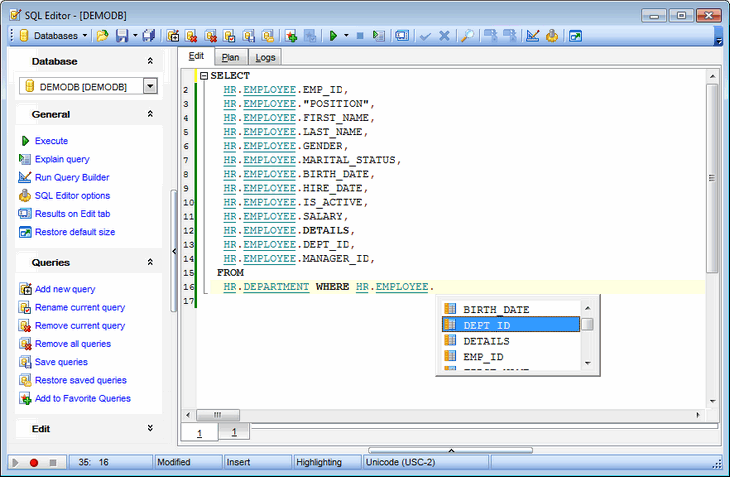 Query designer
Create any types of queries in visual mode. Minimize errors on syntax and save time writing code. Simply select fields on the diagram, join fields to link them, set criteria, grouping, filtering and sorting in the grid below.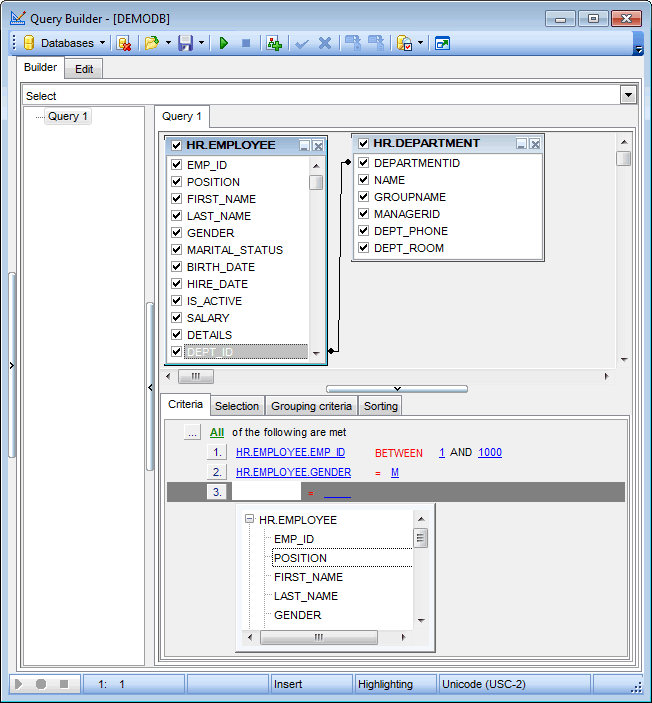 Database designer
This tool allows designing a database visually in terms of entities and relations. All changes introduced in the ER-diagram can be implemented automatically to the database by creating the appropriate objects. Reverse Engineer function allows creating the diagram based on the existing entities and links.
Efficient reports management
Simplify the process of creating reports with build-in wizards and editors. Document your database structure in a few clicks as HTML document, PDF file and more. Create simple or advanced reports based on table or query data and save them in different formats.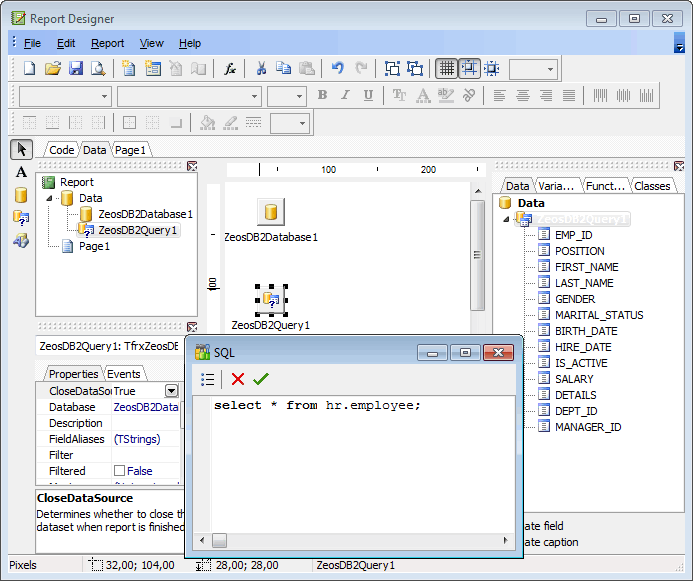 Database maintaining
Get all tools for managing service tasks at your hand. Easy-to-use wizards for backing up and restoring databases, rollforwarding, performing quiesce operation, starting and stopping database manager instance, and more.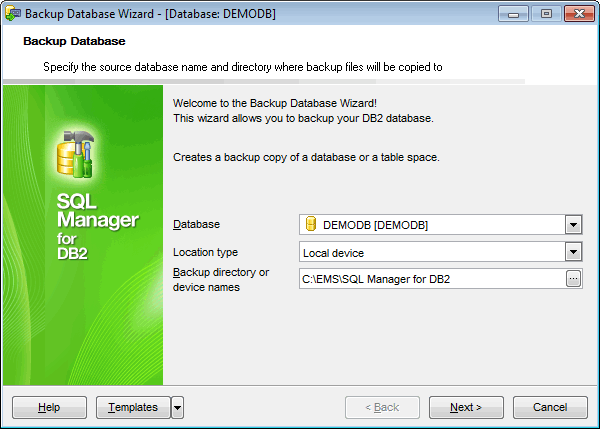 Database synchronization
Easily find the differences in structure of two databases, projects or schemas and get the synchronization script just in a few clicks. The result script can be immediately executed in the editor or saved to a file.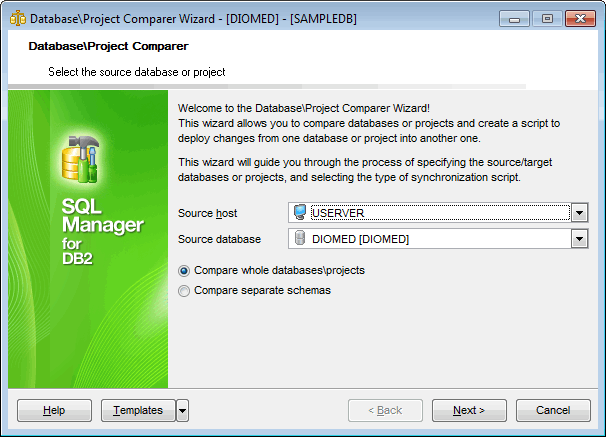 Effective data management
Manage data in form of a grid or forms, apply filters, grouping, sorting, create sub-levels for linked data, edit BLOB data in the special editor. You can export or import data from popular formats, such as XLSX, CSV, TXT, XML, Access, Open Office and more.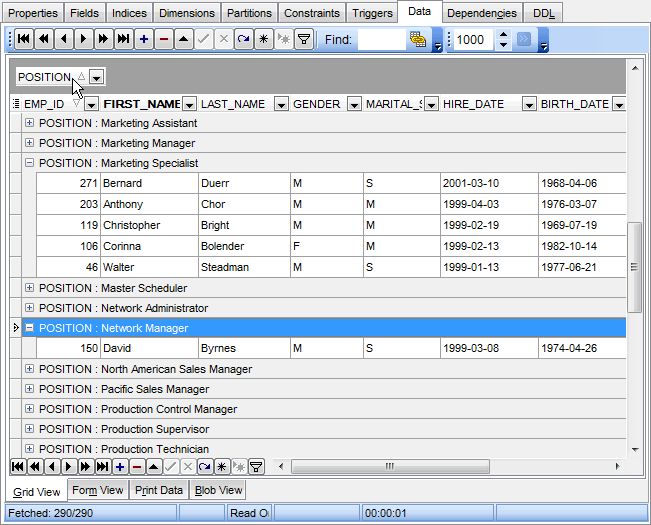 In-purchase Benefits
FREE One Year of Maintenance already included!
FREE software updates and upgrades during Maintenance period!
FREE and unlimited Technical Support during Maintenance period!
Reasonable pricing for Maintenance renewal – from 35% per Year!
Volume discounts when buying two or more copies of one product
Cross-selling discounts on related products
30-day money-back guarantee
SQL Manager for DB2
Get started with SQL Manager for DB2
Download a fully-functional 30-day free trial, and start saving time with your database management today.
Download free trial
Got questions?
If you'd like any help, or have a question about our tools or purchasing options, just get in touch.