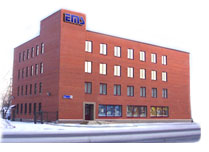 EMS Software Development is an Information Technology Company, one of its activity fields is software development. EMS Software Development was founded in 1993 and initially was specializing in the development of network applications, corporate databases and business automation tools built in multi-layer client-server architecture.
Since 1999, EMS Software Development has concentrated on producing database administration tools and utility applications for data management.
After years of work, we are still a fast-growing company and we continue our evolution. We are planning to earn a bigger part of the database tools market and increase the number of SQL servers involved and products developed. We hope that all of our customers and partners are satisfied with the quality of our products and services. Join us, and you will appreciate the high quality of our software!
Our Innovations
During its lifetime EMS Software Development has brought many innovations to the database management market, often setting the world standard for DBA tools. By incorporating unique features, EMS tries to give developers the opportunity to create and administer their applications in the most effective way. We are successful in this because all our specialists are highly professional and experienced software developers and database administrators themselves.
Most of our programmers have over 10 years of field experience and hold industry certifications. EMS development team knows how to turn the customer requirements into winning products that meet real business needs. Our products always provide the state-of-the-art technology in an easy-to-use environment at an affordable price and help database professionals to complete tasks more easily, efficiently, and with better results. We strive to deliver exceptional quality and value to our clients, helping them to succeed in their development initiatives.
If you have any ideas, propositions or suggestions to our company, services or products, please, don't hesitate to contact us. All of you inspire us to do our work better and better.
Our Customers
As an innovative, customer-focused company and the developer of leading database administration tools, EMS is the choice of thousands of companies in more than 90 countries. EMS customers include companies of all sizes from vast development teams in the world's largest organizations to progressive one-person shops. Here are some of the companies using our software: