Reliable GUI tool for PostgreSQL backups
All PostgreSQL servers in one console
One-click backup on demand
Support for popular cloud storages
Scheduled backup operations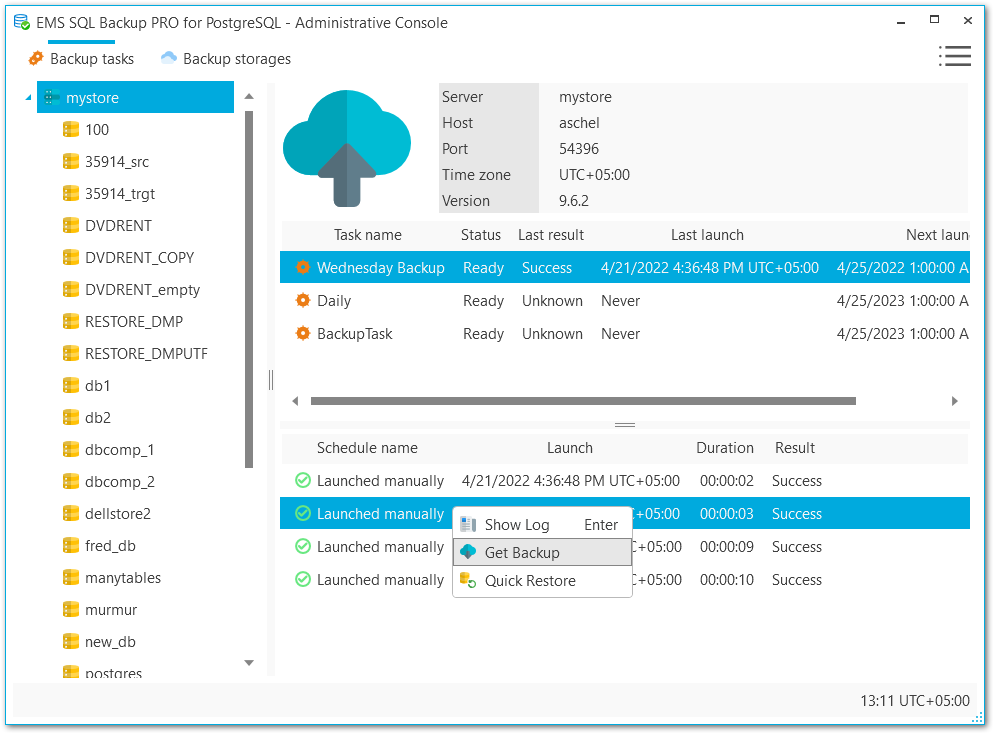 Key Benefits
Quick backup
Easily create quick manual backups for any registered database. If all required settings are pre-set, you can perform the operation with one click only!
Cloud storages
Upload backup files directly to cloud storage, such as Amazon S3, Microsoft Azure, Google Drive, or Dropbox. You can send files to several storages simultaneously to provide fail-safety.
Automation of backup tasks
Create tasks for automatic backup operations with an advanced step-by-step wizard. Add as many schedules as needed and select local or UTC time format for task execution.
Targeted data and object backup
Save time and space by selecting which objects must be included in the backup. Сreate black and white lists and set advanced options for target structure.
Friendly GUI application
Increase productivity by managing all backups from a single console. You can create and monitor all backup tasks from your PC.
Easy restore
Use quick restore or wizard with advanced options to restore a previously backed up database from a storage.
Key Features
Ability to manage backups of all your servers from a single user-friendly application
Step-by-step wizards to set advanced backup options
Backup of either data, structure or both
Implemented compression to reduce backup size
White list to filter objects or schemas
Support for most of PostgreSQL server versions starting with 7.4 up to the latest one
Secure connection with SSL
Support of cloud storages: Dropbox, Google Drive
Support of Amazon S3 and Microsoft Azure storages
Support of FTP and Windows network folders (CIFS)
Advanced wizard to create scheduled backup tasks
Monitoring task execution results in real-time
Any task can be paused or re-started at any time
Connection to PostgreSQL Server through SSH
Easy-to-use Database restore wizard
Buy your license now
In-purchase benefits
FREE One Year of Maintenance already included!
FREE software updates and upgrades during the Maintenance period!
FREE and unlimited Technical Support during the Maintenance period!
Reasonable pricing for Maintenance renewal – from 35% per Year!
Volume discounts when buying two or more copies of one product
Cross-selling discounts on related products
30-day money-back guarantee
Business license
With 1 Year Maintenance,
$105
With 2 Year Maintenance,
$147
With 3 Year Maintenance,
$178

.50
Prices without vat.

See differences of versions here
Business license
With 1 Year Maintenance,
$145
With 2 Year Maintenance,
$203
With 3 Year Maintenance,
$246

.50
Prices without vat.

See differences of versions here
SQL Backup for PostgreSQL
Get started with SQL Backup for PostgreSQL
Download a fully-functional 30-day free trial, and start saving time with your database management today.
Download free trial
Got questions?
If you'd like any help, or have a question about our tools or purchasing options, just get in touch.