Online Documentation for SQL Manager for Oracle
Setting additional options
This step of the wizard allows you to set additional options for the database restore operation (for RMAN strategy).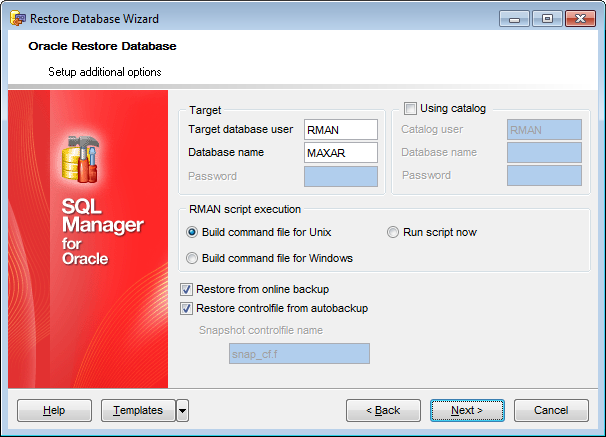 Target
Target database user
Specify the target user under which the RMAN session will be created.
Database name
Specify the name of the target database to restore.
Password
Specify the password for the user under which the RMAN session will be created.

Using catalog
Catalog can be considered as a special database which stores backup settings. Specify Catalog user, Password and Database name to use it.
RMAN script execution
Specify the OS to build the command file for:

Build command file for Unix

Build command file for Windows
or select

Run script now for immediate execution.

Restore from online backup
If this option is selected, the previously created online backup will be used to restore the database.

Restore controlfile from autobackup
Select this option to restore the control file from autobackup, or specify the name of the snapshot controlfile name containing all the changes (if any) made to the database.
Click the Next button to proceed to the last step of the wizard.