Get full control over SQL Server!
Performance monitoring
Checking server health
Maintenance tasks management
Managing SQL Server configurations
Analyzing space utilization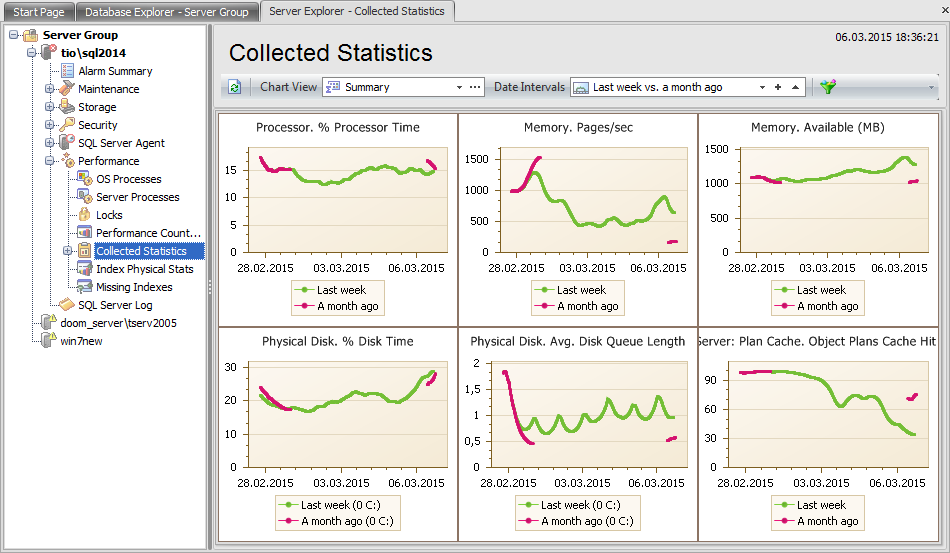 Key Benefits
Performance monitoring
Get an effective assistant to find performance bottlenecks and forecast their occurrence. Monitor all processes, statistics and locks in real time.
Checking server health
Gather advanced statistics and use alarms to get informed about server health. Get alerts on major issues and fix them with one click.
Performing maintenance tasks
Manage maintenance plans and routine service operations over selected servers: backing up, restoring, checking, shrinking, attaching, rebuilding indices and more.
Managing SQL Server configurations
Collect all info about current server configuration and optimize it by comparing with other servers or saved configurations. Select the most effective one to apply.
Analyzing space utilization
Quickly figure out the largest databases, files and objects and select actions to save up disk space. Forecast disk space exhaustion.
Managing database objects
Get access to all database and server objects to create, edit and clone them. Find server security vulnerabilities and manage permissions with friendly interface.
Key Features
Monitoring most important performance indicators
Statistics Collector to collect statistics of the system and SQL Server performances
Graphical comparison of statistics over different time periods to find performance bottlenecks
Analysing trends of performance metrics over time
Checking server health with Alarm Summary tool
Well-described wizard system to backup/restore, attach/detach, check, shrink databases, rebuild/reorganize indexes
Getting complete information about all database maintenance tasks including their schedule and status
Managing SQL Server configurations
Forecasting disk space exhaustion
Analysing space utilization by drive, database or database objects
Easy management of SQL Server objects
Effective security management
Handy Query Management tool for SQL queries and script execution
Ability to print almost any data of the program
In-purchase Benefits
FREE One Year of Maintenance already included!
FREE software updates and upgrades during Maintenance period!
FREE and unlimited Technical Support during Maintenance period!
Reasonable pricing for Maintenance renewal – from 35% per Year!
Volume discounts when buying two or more copies of one product
Cross-selling discounts on related products
30-day money-back guarantee
SQL Administrator for SQL Server
Get started with SQL Administrator for SQL Server
Download a fully-functional 30-day free trial, and start saving time with your database management today.
Download free trial
Got questions?
If you'd like any help, or have a question about our tools or purchasing options, just get in touch.