Data Import for InterBase/Firebird is a powerful tool to import data to InterBase/Firebird tables from MS Excel, MS Access, DBF, XML, TXT, CSV, MS Word, RTF, ODF, HTML. It provides adjustable import parameters, including source data formats for all the fields and destination InterBase/Firebird data formats for the selected fields, commit options, number of records to skip, etc.
Data Import for InterBase/Firebird includes a wizard, which allows you to set all the InterBase/Firebird import options for different files visually, and a command-line utility to execute import to InterBase/Firebird database in one-touch.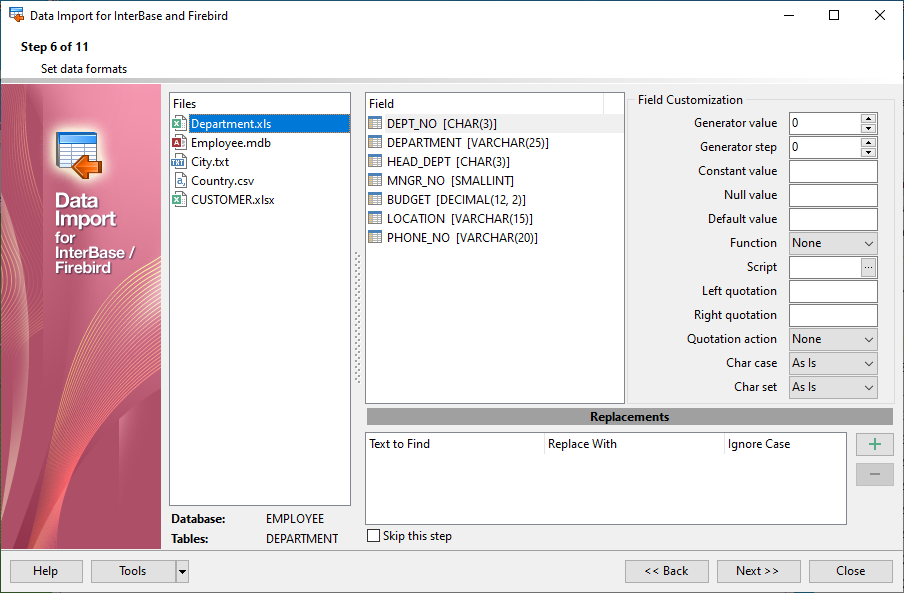 Key Features
Import from 10 most popular formats: MS Excel, MS Access, DBF, XML, TXT, CSV, MS Word, RTF, ODF, HTML
Importing data to one or several tables or views from different databases
A number of import modes - Insert All, Insert New, Insert or Update, and others
Adjustable import parameters for each source file
Saving all import parameters set on current wizard session
Automatic creation of the table structure
Command-line utility to import data using the configuration file
Powerful visual options module
In-purchase Benefits
FREE One Year of Maintenance already included!
FREE software updates and upgrades during Maintenance period!
FREE and unlimited Technical Support during Maintenance period!
Reasonable pricing for Maintenance renewal – from 35% per Year!
Volume discounts when buying two or more copies of one product
Cross-selling discounts on related products
30-day money-back guarantee
Data Import for InterBase/Firebird
Get started with Data Import for InterBase/Firebird
Download a fully-functional 30-day free trial, and start saving time with your database management today.
Download free trial
Got questions?
If you'd like any help, or have a question about our tools or purchasing options, just get in touch.