Online Documentation for SQL Manager for Oracle
Search in Metadata
The Search in Metadata tool is implemented for quick search within the scope of database metadata. The tools allows you to set various search conditions and view the results.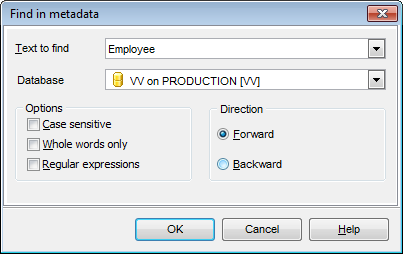 To launch the Search in Metadata tool, select the Tools |

Search in Metadata main menu item, or use the Ctrl+Alt+F shortcut.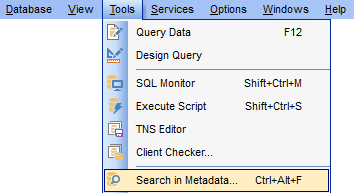 The Find in metadata dialog allows you to set search conditions. It opens each time the Search in Metadata tool is launched.
Text to find
Enter a search string in this box. The Arrow-Down button which can be found next to the input box allows you to select any of the previously entered search strings.
Database
Use the drop-down list to select a database for the search operation.
Options
Available search options are similar to those provided by the Find Text dialog. For detailed description of the search options refer to the Find Text dialog page.
When all the options are set, click OK. The Search in Metadata [search string] report window will display the search progress and results.
The Search in Metadata window allows you to view the search progress and results fetched from the database.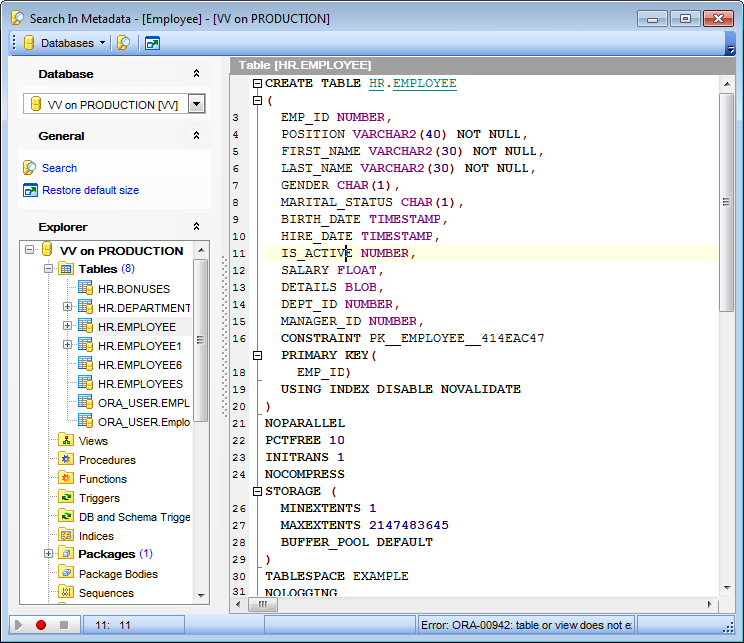 After the search is complete, the Explorer group on the Navigation bar displays the tree of database objects in which the search string is found, and allows you to view metadata of the required object or its fragment quickly by clicking enclosed object branches in the tree.
The Object <object_name> area is provided for viewing metadata of the objects, with the search string highlighted.
For your convenience the syntax highlight, code completion and a number of other features for efficient SQL editing are implemented. For details see Working with Query Data area and Using the context menu.
Availability:

Full version (for Windows)

Yes

Lite version (for Windows)

No

Note: To compare all features of the Full and the Lite versions of SQL Manager, refer to the Feature Matrix page.
---