Online Documentation for SQL Manager for Oracle
Flashback
Flashback Wizard is a very powerful tool for restoring data to a certain state. You can either return table data to the recent state or restore dropped table to before-drop state.
To start the wizard select Services |

Flashback main menu item.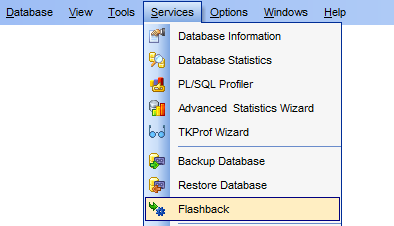 Availability:

Full version (for Windows)

Yes

Lite version (for Windows)

No

Note: To compare all features of the Full and the Lite versions of SQL Manager, refer to the Feature Matrix page.
---