Online Documentation for SQL Backup for SQL Server
Templates
This chapter describes the way you can manage policy, service task and schedule templates.
EMS SQL Backup has a set of standard preset templates for easy creation of policies and their elements. You can create your own policy templates or widen the template library on the basis of already created objects.
To activate the template management section switch to the Templates tab: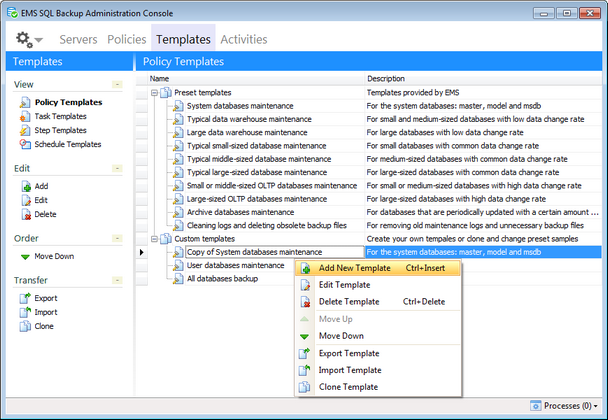 How to create a new template:
Proceed to the Templates tab and add new template in the appropriate section.
How to create a template from the existing policy:
Proceed to the Policies tab and select Create template from policy from policy's popup menu.
The program provides a set of standard templates.
To

Import and

Export templates to an external *.xml file, use the

Import Template and

Export Template context items correspondingly.
To create a template copy select it in the list of templates and use the

Clone Template context menu item.
---