Online Documentation for SQL Backup for SQL Server
Activities
At this tab you can view all processes initiated by EMS SQL Backup: Policies and

Quick Maintenance Actions.
The result status of the task execution is displayed in the Status column.
The same information concerning tasks execution can be retrieved from the Server History viewer.
To see more detailed log refer to the Task Details section below. You can create a detailed bugreport by using the Copy As Bugreport context menu item. After the bugreport is generated you can paste it to any text editor.
The launch of policies created from other instances of the program is also displayed at this tab; such policies are displayed as Unregistered in Policy Name column.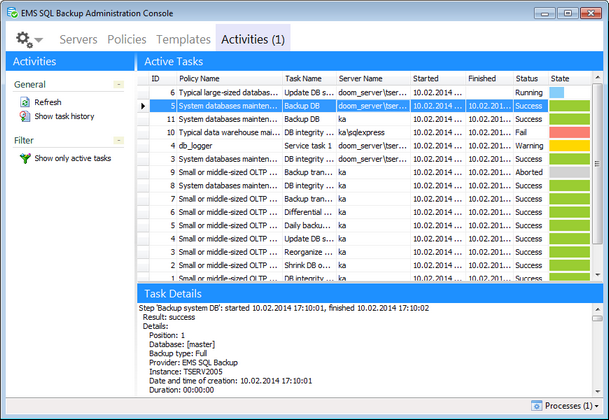 Refresh
Refreshes the Activities tab. You can also use F5 key for this action.

Stop task
Interrupts task execution.

Show task history
Opens the Server History viewer for the selected instance.
Show all tasks \ Show only active tasks
Toggles between displaying all tasks performed within 24 hours and tasks that are being executed at the moment.
---