Online Documentation for Data Export for PostgreSQL
DBF options
This tab allows you to set options for the target DBF (*.dbf) file.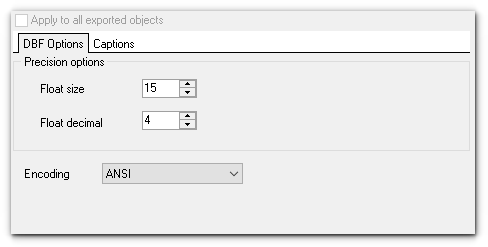 At the DBF Options tab you can define the precision for float fields. Use the Float size and Float decimal fields for this purpose.
Encoding
Use the drop-down list to specify the preferable output file encoding. Possible values are: ANSI, OEM, MAC, UTF-8, UTF-16, UTF-32.
Hint: If more convenient, you can check the

Apply to all exported objects box to apply changes made at this tab for all exported objects.
---