Online Documentation for SQL Manager for MySQL
Server Properties
The Server Properties viewer allows you to view the properties of the selected server: server variables, processes, status, query logs.
To open the Server Properties viewer window, select the Services |

Server Properties... main menu item.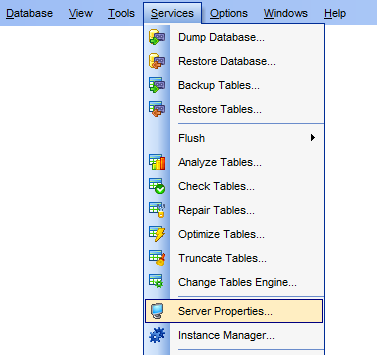 Before the Server Properties viewer is launched, the application prompts you to specify host connection parameters in the Login Host dialog for retrieving server properties.
Availability:

Full version (for Windows)

Yes

Lite version (for Windows)

No

Note: To compare all features of the Full and the Lite versions of SQL Manager, refer to the Feature Matrix page.