Online Documentation for SQL Manager for MySQL
Login Host / Database Login dialogs
The Login Host dialog appears each time a request is sent to the server which requires authentication. The application prompts you to specify host connection parameters to access the specified host: user name, password, client charset, and SSH tunneling or HTTP tunneling settings (if used).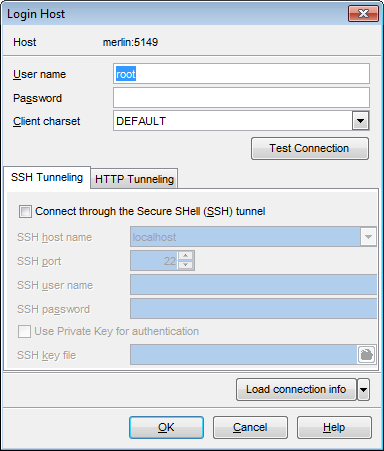 Once you have specified the connection properties, you can check whether it is possible to establish connection to the server: click the Test Connection button for this purpose. If connection is successful, you will get the 'Connected!' message; otherwise an error message will be returned.
The Database Login dialog appears on attempt to connect to a database if the Login prompt before connection option is enabled on the Options page of the Database Registration Info dialog.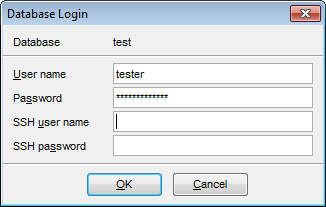 Note: The SSH user name and SSH password boxes are available only if SSH tunneling is used for the database connection.
Specify user name / password, SSH user name / SSH password (if necessary) and click OK to start working with the database.