Online Documentation for SQL Backup for SQL Server
Policy creation wizard
This chapter explains how to create a new policy in EMS SQL Backup.
There is a special wizard that guides you through the policy creation process. You can launch this wizard in one of the following ways:
At the Policies tab:
Use the

Create New Policy or

Create Policy from Template popup menu item.
At the Servers tab:
Right-click database/server/server group and use the

Maintenance Policies |

Create new policy or

Create from templates item.
If you call the wizard from the Policies page you will be asked to pick a server, group or solution which policy will be created for. You can create a policy for all servers within Group or Solution.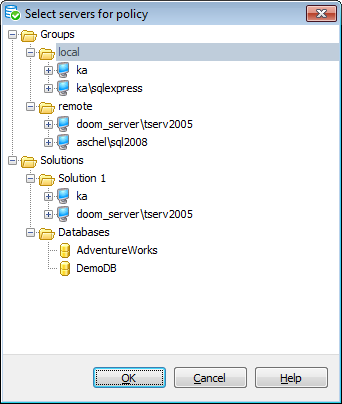 Note: Creating a Policy for a database means creating policy for the server on which database is stored. This database will be marked by default in steps that require database selection.
Note: When you create a policy from a template it will be applied to all databases of the server irrespective of the database selected.
Proceed to the starting step of Policy wizard.
Steps:
Setting policy name and description
---