Online Documentation for SQL Manager for SQL server
Selecting backup set to restore
At this step of the wizard you need to select a backup media to restore the database from.
You can specify a backup set manually by adding devices to the device list.
To add a device, click the Add Item button and select a media type from the menu. Select the required backup device using the corresponding dialog.
To remove a device from the list, select it and click the Delete Item button.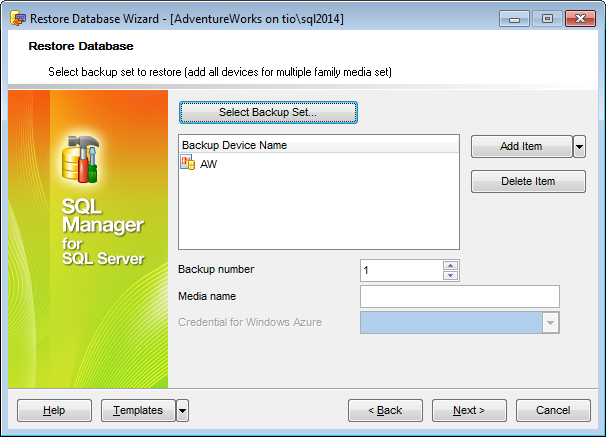 Using the Add Item menu you can add a logical device, a file, or a tape.
For restoring performed on the SQL Server 2014 adding Windows Azure URL is possible as well.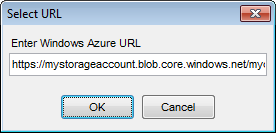 Specify the location and the file name for the Windows Azure Blob in the URL format.
Also you need to specify Credential for Windows Azure which is the credential to access the storage.
Backup number
Identifies the backup set to be restored. For example, 1 indicates the first backup set on the backup medium and 2 indicates the second backup set.
Media name
Specify the name for the media. If provided, the media name must match the media name on the backup volume(s); otherwise, the restore operation terminates. If no media name is given, no check for matching media name on the backup volume(s) is performed.
NB: Consistently using media names in backup and restore operations provides an extra safety check for the media selected for the restore operation.
Media password
Supply the password for the media set. If a password was provided when the media set was formatted, that password must be supplied to access any backup set on that media set.
Backup password
Provide the password for the backup set. If a password was provided when the backup set was created, the password must be supplied to perform any restore operation from the backup set.
To select a whole backup set, click the Select Backup Set... button and select a set in the corresponding dialog.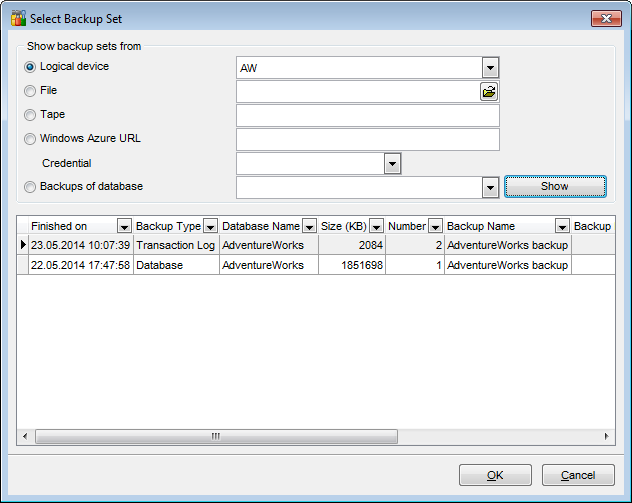 Click the Next button to proceed to the Selecting files to restore step of the wizard.