Online Documentation for SQL Manager for SQL server
Selecting destination database
This step of the wizard allows you to specify the host/instance to restore database, and to provide authentication parameters.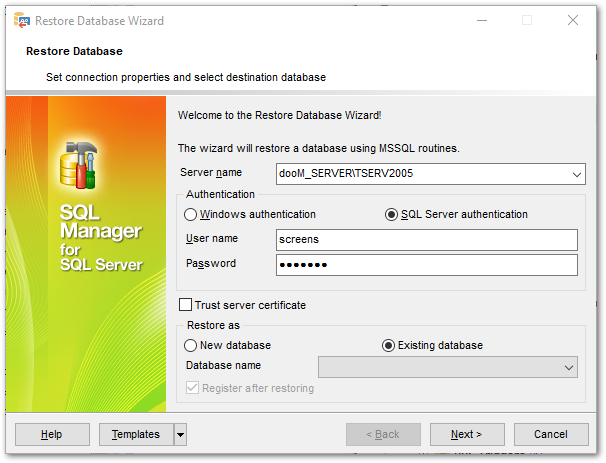 Server name
Type in or use the drop-down list to select the host/instance name to restore database to.
Authentication
Specify the type of Microsoft® SQL Server™ authentication to be used for the connection: the built-in

Windows authentication or

SQL Server authentication.
If 'SQL Server' has been selected as the authentication type, you should also provide authorization settings: User name and Password.
Restore as
Select

New database if you want to create a new database, or select

Existing database to restore to an existing database.
Database name
Enter a name for the new database or select the database to restore to from the drop-down list of all available databases on the specified host.

Register after restoring
This option indicates that the Database Registration Info dialog for the newly restored database will appear immediately after restoring the database (you need to register the database to start working with it in SQL Manager). If you intend to register the database later, uncheck this option.
Click the Next button to proceed to the Setting restore type and recovery options step of the wizard.