Go to Message Number dialog
The Go to Message Number dialog allows you to jump to the message with a certain number.
To call this dialog, select the corresponding items on the Navigation bar, toolbar, or context menu of the working area of Server Messages Editor.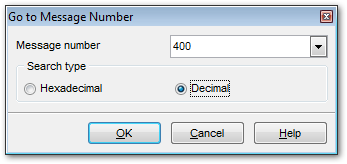 Message number
Input the number of the message you need. The drop-down list contains the previously specified values.
Search type
Select a number notation to be used in the message search operation:

Hexadecimal

Decimal