Online Documentation for SQL Manager for PostgreSQL
Using Navigation and Toolbar Bar
The Navigation bar and Toolbar provide quick access to tools implemented in Extensions.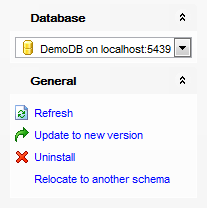 Database

select a database for extension installing
General

Refresh the extensions list

Install selected extension This item is only available for non-installed extensions.

Update to new version

Uninstall selected extension
Relocate to another schema
NB: You can enable\disable Toolbars and Navigation bars at Environment options.