Online Documentation for SQL Manager for PostgreSQL
Download Files
Download File wizard allows you to save and load files directly to/from the server machine.
In most cases loading data is performed considerably faster with the help of this wizard, especially when dealing with large files, due to using native server file access functions.
To run the wizard, select the Services |

Download Files... main menu item.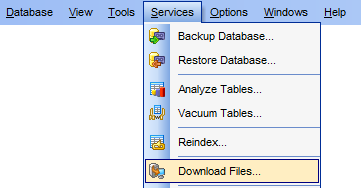 Availability:

Full version (for Windows)

Yes

Lite version (for Windows)

No

Note: To compare all features of the Full and the Lite versions of SQL Manager, refer to the Feature Matrix page.
---