Online Documentation for SQL Manager for PostgreSQL
Binding master and detail levels
Define pairs of columns to link the Master Level and the Detail Level data sources:
select a column in the

Master Level Key Columns

list;

select a corresponding column in the

Detail Level Key Columns

list;

click

Add

to set correspondence between the selected columns.
The newly created correspondences are listed in the Links Between Master and Detail Levels area. If necessary, you can delete any correspondence using the Remove button.
The From Foreign Key... menu is available if the

Show tables related by foreign keys only option has been selected at the previous step. This menu allows you to select the foreign key to be used for identifying master-detail levels (if the table has more than one foreign key relation).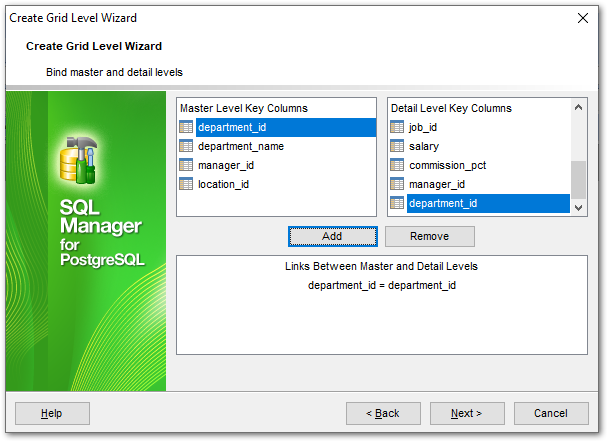 Click the Next button to proceed to the Setting additional parameters step or to the Query parameterization step of the wizard if

Query was selected at the Specifying master level step of the wizard.