Online Documentation for SQL Manager for PostgreSQL
Server Configuration
SQL Manager for PostgreSQL provides a useful and effective service - the ability to view and change server configuration. There are many configuration parameters that affect the behavior of the database system which can be set up via Server Configuration manager.
Using the tabs of the Server Configuration manager you can view/edit a number of server parameters and options which can be changed to optimize PostgreSQL server performance.
To launch the tool, select the Services |

Server Configuration main menu item, or right-click the host alias in the DB Explorer tree and select the

Server Configuration item from the context menu.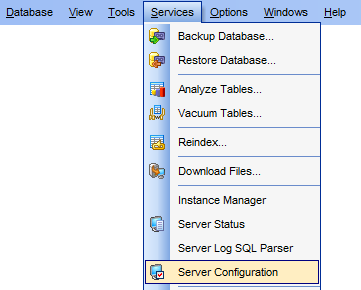 Availability:

Full version (for Windows)

Yes

Lite version (for Windows)

No

Note: To compare all features of the Full and the Lite versions of SQL Manager, refer to the Feature Matrix page.