Online Documentation for SQL Query for Oracle
Setting connection properties
Enter the necessary settings to establish connection to Oracle server.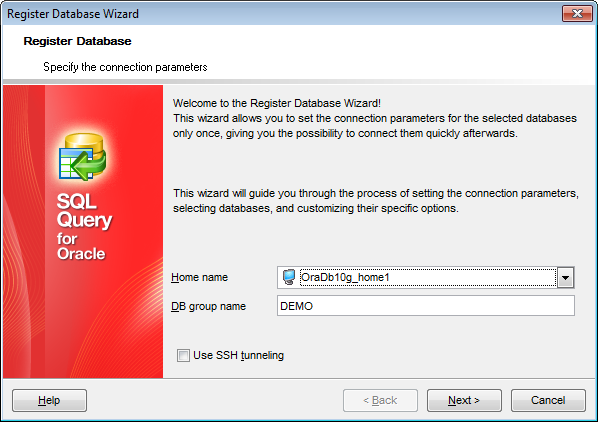 Home name
Specify your Oracle Home storage for this connection. Enter the name of the machine where Oracle is running.
Note: If no database is registered in Oracle Client (DB list is empty in this case), then you need to add registration info manually.
Host name
Type in, or use the drop-down list to specify the host name of the Oracle server.

Use SSH tunneling
If this option is checked, you should set tunneling parameters at the Specifying tunneling parameters step of the wizard.
Select this option to establish connection to an intermediate SSH server and forward all Oracle commands through the secure tunnel. The next step of the wizard allows you to define the corresponding parameters for SSH tunneling.
Click the Next button to proceed to the Setting registration options step of the wizard, or to the Specifying tunneling parameters step (if SSH tunneling is used).