Online Documentation for SQL Manager for Oracle
Creating/Editing window
Use the Scheduler Window tab of Scheduler Window Editor to create/edit a scheduler window and specify its properties.
Name
Displays the name of the scheduler window being created or edited.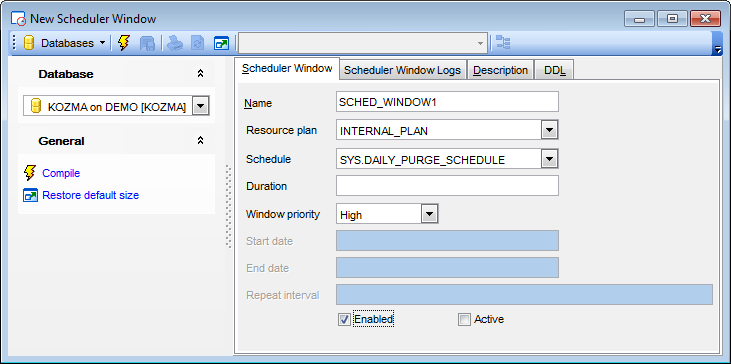 Resource plan
Select the resource plan that is automatically activated when the window opens.
Schedule
Specified schedule will be associated with the window.
Duration
This field indicates how long the window will be open for.
Window priority
This attribute is only relevant when two windows overlap. Because only one window can be in effect at one time, the window priority will be used to determine which window will be opened.
Start date
Use this field to specify the first date on which this window is scheduled to open.
End date
At this field you should specify the date after which the window will no longer open.
Repeat interval
Define the frequency of window repetition. The value should be expressed using the Scheduler's calendaring syntax.

Enabled
This option indicates whether the window group is created enabled or not.

Active
Use this option to open a window immediately independent of its schedule. This window will open and the resource plan associated with it, will take effect immediately for the duration specified or for the normal duration of the window if no duration is given. Only an enabled window can be manually opened.
You can find the detailed window log at the Schedule Window Logs tab.

To compile the object, use the corresponding

Compile item of the Navigation bar or toolbar.