Online Documentation for DB Extract for Oracle
Step 9 - Scheduling options
At this step you can setup scheduled execution of the extraction task with DB Extract command-line service used.
Scheduled execution options
Here you are to choose if the extraction task is to be run within the current session of the GUI wizard, or whether the task is to be scheduled for running later, or both.
Recurrence rule
Set the Run once option to execute the extraction task one time, or select a

daily, a

weekly or a

monthly Recurrence Rule to repeat the extraction task periodically.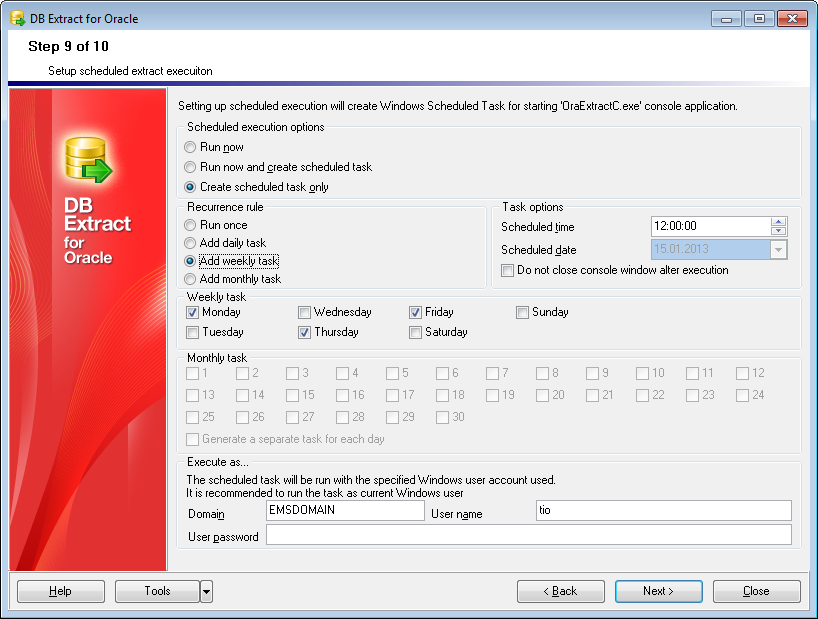 Task options
Scheduled time
This box allows you to set the time of the task execution.
Scheduled date
This box allows you to set the date of the extraction task execution if the Recurrence rule is set to Run once.
Please note that this value cannot be greater than one month forward.

Do not close console window after execution
This option is used to disable/enable closing the console window after the scheduled extraction is complete.
Note: you must have the Task Scheduler service running to be able to use these settings. Please open Windows Control Panel | Administrative Tools | Services (or open the Start | Run... dialog and use the services.msc command) to start the Task Scheduler service.
Weekly task / Monthly task
These groups contain the lists of days of the week/month that can be set for the extraction task to be executed (applied when the Recurrence Rule is set to weekly or monthly)

Generate a separate task for each day
Check this option if you want several tasks (each corresponding to the specified day) to be created for Windows Task Scheduler.
Execute as...
In these fields you must specify Windows Domain (if a domain login is being used), User name and User password for the task execution. It is recommended to run the task as current Windows user.
When you are done, press the Next button to proceed to the last step of the wizard.