Online Documentation for DB Extract for Oracle
Step 4 - Selecting objects for metadata extraction
At this step you should select the objects from which metadata is to be extracted.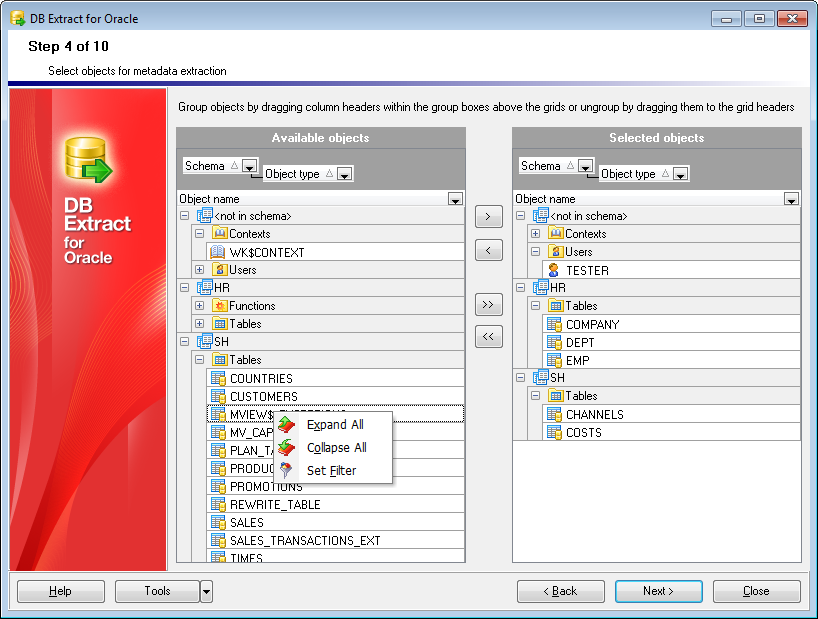 In the Available objects tree you can see the objects which have been selected for metadata extraction at the Specifying object types step. Initially the objects are grouped by schema names and object types. You can change grouping by dragging column headers to the grey upper area or cancel grouping by dragging them back. Additionally, you can use the Custom Filter dialog allowing you to set conditions for filtering objects in the trees.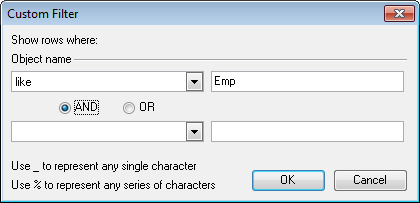 To select objects, move the items from the Available objects tree to the Selected objects tree. To cancel object selection, just remove it from the Selected objects tree. Use the




buttons or drag-and-drop operations to move the objects from one list to another.
Hint: To select multiple objects, hold down the Shift or Ctrl key while selecting the object names.
The context menus of the Available objects and the Selected objects areas allow you to browse the objects in the tree more effectively: you can expand/collapse objects viewed in the tree or specify filter conditions within the Filter builder dialog.

The Filter builder dialog allows you to facilitate creating and applying filter criteria for the objects viewed in the trees. It is also possible to save filter criteria to an external *.flt file and load them from that file any time afterwards by using the Save as... and the Open... buttons.
When you are done, press the Next button to proceed to the next step of the wizard.
Depending on whether you have specified Extract all data tables in the Data Options group at the Specifying object types step, you will either proceed to the next step of the wizard and then to the Selecting tables for data extraction step, or you will be immediately forwarded to the Setting up extraction options wizard step.