Online Documentation for SQL Backup for SQL Server
Authorization type settings
Use this step to change, set or get new authorization parameters for Google Drive and Dropbox.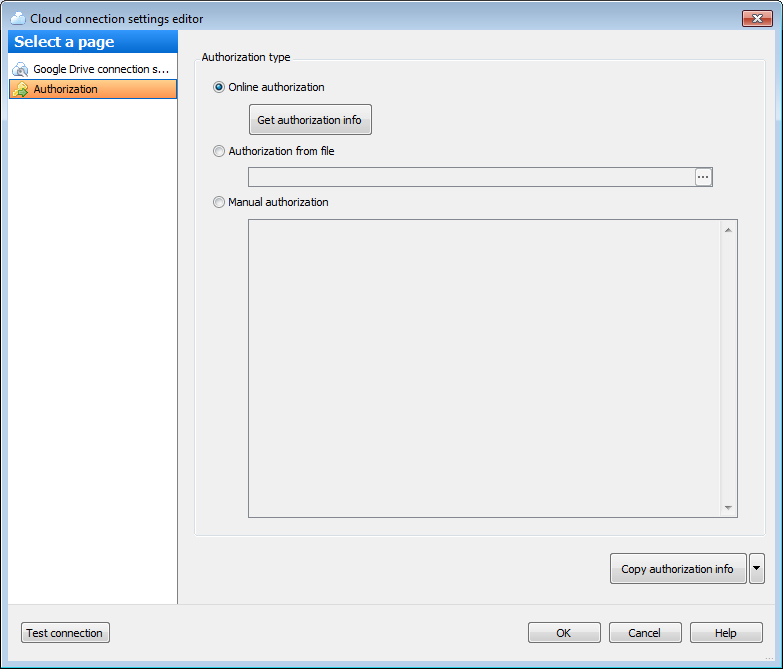 Authorization type
Select the type of authorization to access the cloud account.

Online authorization is used to get authorization information by Web. Click the Get authorization info button to log in to the cloud account and confirm the access for EMS SQL Backup application in the opened browser window. If the operation has been successful, the corresponding message will be displayed. Use this type of authorization if access to the selected cloud account hasn't been set up with EMS SQL Backup before.

Authorization from file is used when file authorization type was selected. Please set the path to the file in the field or use the

ellipsis button to select it.

Manual authorization is used if you have required info for manual authorization. Copy the access code to the field.
Copy authorization info is used to copy authorization code if Online authorization type was used. You can choose either To clipboard dropdown item to save it to Clipboard, or To file item to save it to a file.
Click the Test connection button to check connection to the selected cloud storage. Select the servers for checking connection in the opened dialog.