Online Documentation for SQL Backup for SQL Server
Server options
At the SQL Server connection info tab you can view\change authentication to be used for user authorization on the server. The settings you provide will be used by the service installed on the server.
Unlike the Server Properties dialog this one is used to set SQL Server authentication parameters for an account that will be used for connection by a service installed on a server.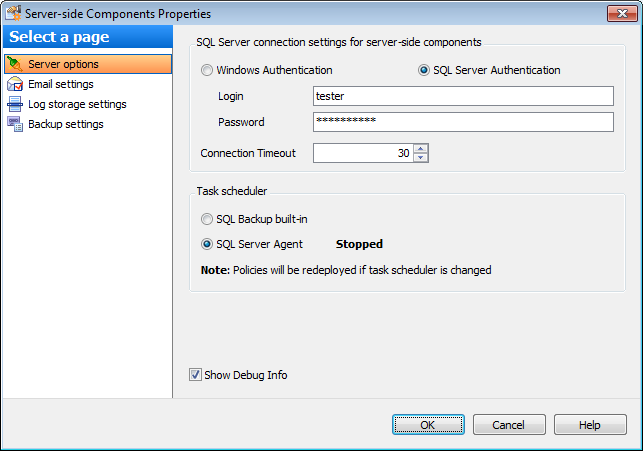 Specify the type of Microsoft® SQL Server™ authentication to be used for the connection:

Windows authentication or

SQL Server authentication.
SQL Server authentication requires authorization information: Login and Password.
Connection Timeout
Use this option to restrict time (in seconds) for EMS SQL Backup to connect to server.

SQL Backup built-in
Select this option to launch policies according to the EMS SQL Backup built-in scheduler.

SQL Server Agent
On selecting this option all policies are transformed to SQL Server Agent jobs. The current state of SQL Server Agent is displayed on the right.

Show Debug Info
Check this option to display debug information in server logs.