Online Documentation for Data Pump for SQL Server
Connection
Within the Connection tab you can set the connection properties.
In order to set the connection properties correctly, follow the steps below.
Type in the source server name, or select one from the drop-down list. You can get the actual server list by clicking the

Refresh

button.

Specify the

Log on information

:

User name

and

Password

in the corresponding fields.

If necessary, select/deselect the available options:

Allow saving password

,

Use Trusted Connection

.
Note: The set of available Connection options depends on the selected Ole DB Provider.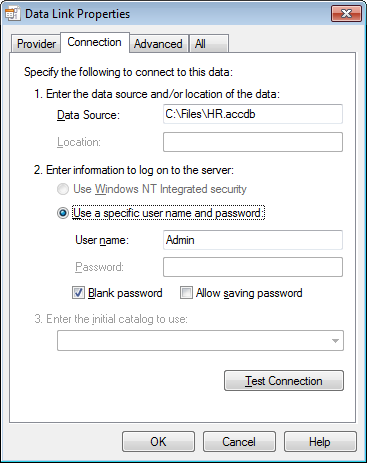 If you have selected Microsoft OLE DB Provider for ODBC Drivers the Connection tab is the following.
Click the Test Connection button to see if your connection settings are specified correctly.
Use the Advanced and the All tabs of the dialog to access the corresponding pages available for the specified data source.
---