Connection
The Connection section of the Database Registration Info dialog allows you to view and/or edit the connection properties in the corresponding boxes: User name, Password, Role, Database name, Database alias, Charset, Font charset.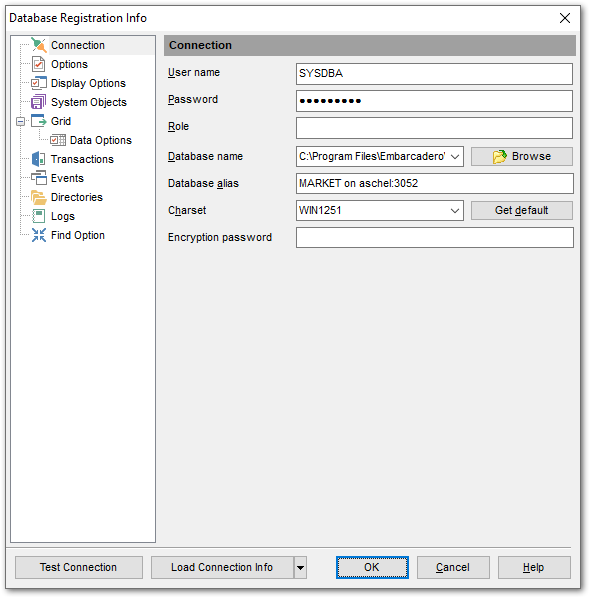 User name
If necessary, edit the user name used to access the database.
Password
If necessary, edit the password used to authenticate the user.
Role
Specify the SQL role that you adopt on connection to the database. You must have previously been granted membership in the role to gain the privileges of that role.
Database name
Type in or use the

Browse button to specify the path to the database file (*.gdb, *.ib for InterBase or *.fdb for Firebird). The drop-down list contains the previously specified paths.
Database alias
Enter the alias to be used to display the database in DB Explorer and SQL Manager tools. By default, a database alias generated by the application has the following format: <database_name> on <host_name_or_address>[:<port>]
Charset
Specify an active character set to use for subsequent database attachments. The Get default button applies the default character set which was specified on creation of the database.
Font charset
Specify the character set to be used to display data in the grid.
Once you have specified the connection properties, you can check whether it is possible to establish connection to the database: click the Test Connect button for this purpose. If connection is successful, you will get the 'Connected!' message; otherwise an error message will be returned.
The Copy Alias from... menu allows you to select the alias of a previously registered database and use it for the newly created/configured database.