FTP storage info
At this tab you can edit FTP storage connection settings.
Host
Specify the FTP server name or its IP.
Port
Set the port value for FTP server.
Path
Specify the folder on the FTP server where backup files will be uploaded. If the specified directory does not exist on the server it will be created on the first upload process.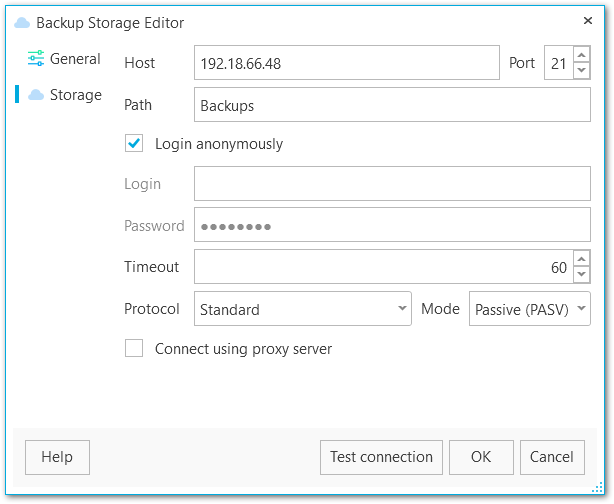 Login anonymously
Select this option if you don't need to enter login and password to access to the server, otherwise provide valid Login and Password values in the corresponding fields. Note that the specified user should have sufficient rights to write to the target folder.
Timeout
Specify the timeout in seconds for inactivity of data channel.
Protocol
Select the protocol that should be used for backup files transferring. The possible values are: Standard FTP, Implicit SSL/TLS, Explicit SSL/TLS.
Mode
Select the mode of the FTP connection: Passive (PASV), Active (PORT).

Connect using proxy server
Check this option to use proxy settings set at Proxy server options.
Click the
Test connection button to check connection to the selected folder with the settings defined above.