Online Documentation for SQL Manager for PostgreSQL
Specifying objects to backup
This step of the wizard allows you to specify server objects for the database backup operation.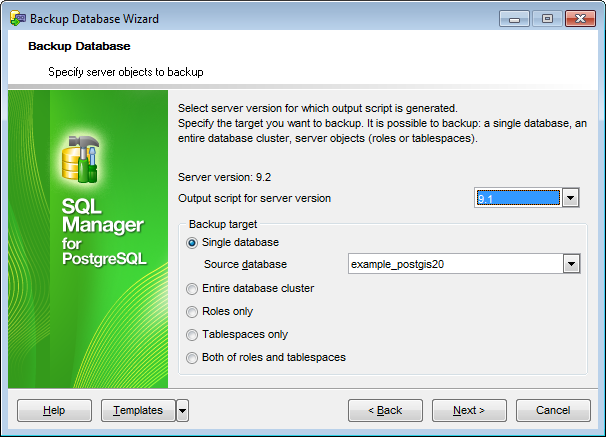 Server version
This label displays the current PostgreSQL server version.
Output script for server version
Use the drop-down list to select the version of PostgreSQL server for the backup script. The output script will be generated in compliance with the specifications of the selected server version: 9.3, 9.2, 9.1, 9.0, 8.4, 8.3, 8.2, 8.1, 8.0 or 7.4.
Backup target
Use this group to define the backup target:

Single database (use the Source database drop-down list to select the database you need)

Entire database cluster

Roles only

Tablespaces only

Both roles and tablespaces
Click the Next button to proceed to the Setting output format and file name step of the wizard.