Online Documentation for SQL Manager for PostgreSQL
Using Navigation bar and Toolbar
The Navigation bar and Toolbar provide quick access to tools implemented in Server Status.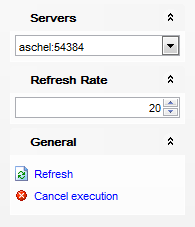 The Navigation bar of Server Status allows you to:
Servers
Select the registered server to view information about.
Refresh Rate
Type in or use the spinner controls to define the refresh periodicity (in seconds).
Log Date (on Logfile tab only)
Use the drop-down list to select the date for displaying logs.
General

refresh the content of the active tab

cancel execution

rotate log (view the current log)

view log options
NB: You can enable\disable Toolbars and Navigation bars at Environment options.