Online Documentation for SQL Manager for Oracle
Exporting report content
The Export dialog allows you to configure page range and a number of output format settings.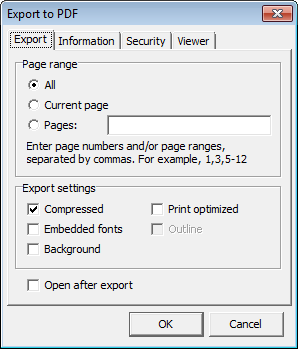 Page range
This group allows you to specify which report pages are to be exported:

All

Current page

Specified pages (you should input page number(s) and/or page range(s) in the edit box)
Format-specific settings
These settings vary according to the specified output format: PDF file, HTML file, RTF file, Excel table (OLE), Excel table (XML), BMP image, JPEG image, TIFF image, GIF image, E-mail, CSV file, Text file, Open Document Spreadsheet, Open Document Text, Text (matrix printer).
For more information refer to the Fast Report User Manual distributed with the program.