Online Documentation for SQL Manager for SQL server
Cells
If you need to add a value in a specific cell:
set the cell coordinates (

Col

and

Row

);

select the cell type;

enter a

value

;

if you are adding a numeric or a date/time value, you can set the cell

format;

set the

font

,

borders

and

fill

properties using the corresponding tabs.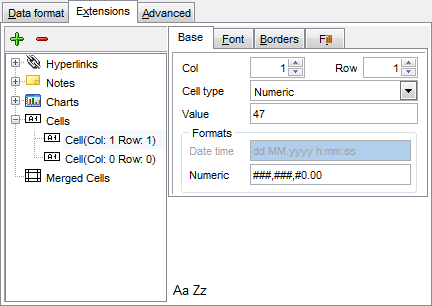 The Base tab allows you to specify basic properties of the cell.
Use the Col and Row spinner controls to specify the column and row denoting the cell.
Use the Cell type drop-down list to select the data type for the cell (Boolean, DateTime, Numeric or String).
Set the required value in the Value edit box.
The Formats group allows you to specify data format for numeric or a date/time types.
The font, borders and fill options are specified in the same way as for output Fields. For details refer to the Fields page.