Page settings
The Page Settings dialog allows you to configure page size, orientation, margins, and other settings.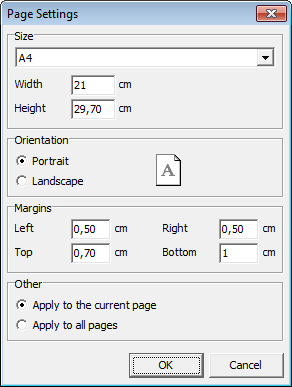 Size
Select one of the standard paper types from the drop-down list, or specify custom width and height using the corresponding controls below (in centimeters).
Orientation
Select the preferable page orientation (your selection is illustrated in the chart on the right):

Portrait

Landscape
Margins
Use this group to specify the left, right, top and bottom margins (in centimeters).
Other
Select the scope the settings are to be applied to:

Apply to the current page

Apply to all pages
For more information refer to the Fast Report User Manual distributed with the program.