Specifying destination file name
Script destination

Automatically load to Script Editor
Use this mode if there's no need to save script to file. Generated script will be automatically opened in SQL Script Editor.

Save to file
This mode allows you to save complete script to a single file.
File name
Set a name for the result *.sql file and type in or use the Save as...

button to specify the path to this file on your local machine or on a machine in the LAN.

Separate file for each object
Use this mode to extract each object of the database into a separate file. In this case you need to specify Directory name where created files will be stored.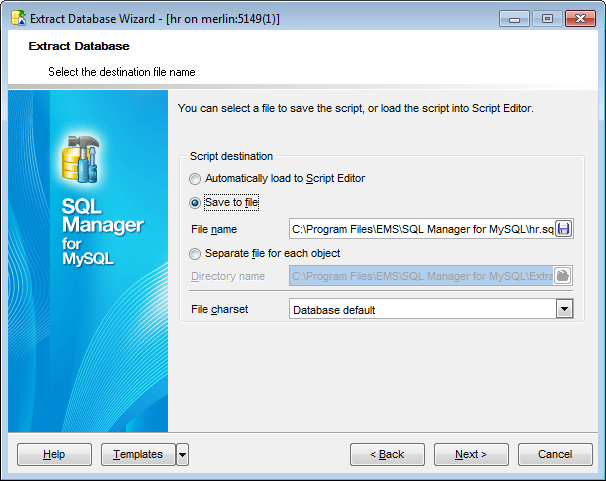 Note: If the specified folder exists, make sure it doesn't contain any useful data, as you will be suggested to recreate the folder.
File charset
If necessary, use the drop-down list to select the character set for the exported data.
Depending on whether you have checked the

Extract all metadata and data of the database option at the Selecting source database step, upon pressing the Next button you will either proceed to the Setting extraction mode, or you will be immediately forwarded to the Customizing script options step of the wizard.