Start/Stop Database
Start/Stop Database Wizard allows you to shutdown (to switch to the one-user database connection mode) and to bring database online back again.
Maintaining a database often involves shutting it down. The user who shuts down the database then has exclusive access to the database.
After a database is shut down, it must be restarted (brought back online) before users can access it.
To run the wizard, select the Services |

Start/Stop Database... main menu item, or right-click a table in the DB Explorer tree and select the Table Services |

Start/Stop Database... context menu item.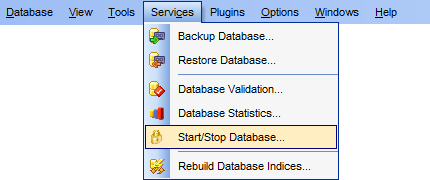 Availability:

Full version (for Windows)

Yes

Lite version (for Windows)

No

Note: To compare all features of the Full and the Lite versions of SQL Manager, refer to the Feature Matrix page.
---