External Tools dialog
The External Tools dialog allows you to manage the list of external applications which can be easily run from within SQL Manager environment.
To open this dialog, select the Options |

External Tools... main menu item.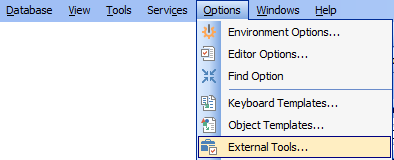 Tools
Lists all added external applications.
Add...
Opens the External Tool Info editor for adding a new tool to the Tools | External Tools submenu.
Edit...
Opens the External Tool Info editor for editing the title, the hot key, the path to the executable file, the working directory and execution parameters of the tool currently selected in the Tools list.
Delete
Removes the selected tool from the list of SQL Manager for InterBase/Firebird external tools.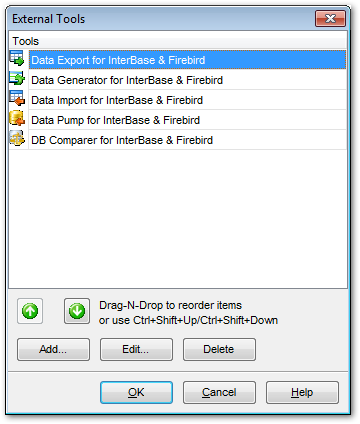 To change the order of tools in the list, use the


arrow buttons at the bottom area of the dialog, or use the Ctrl+Shift+Up / Ctrl+Shift+Down shortcuts. You can also drag-and-drop items within the list box to change their positions.
Availability:

Full version (for Windows)

Yes

Lite version (for Windows)

Yes

Note: To compare all features of the Full and the Lite versions of SQL Manager, refer to the Feature Matrix page.
---