Editor Options
Editor Options allow you to set the parameters of viewing and editing SQL statements within SQL Editor and other SQL editing tools of the SQL Manager application.

To open the Editor Options window, select the Options | Editor Options... main menu item, or use the Editor Options

button on the main toolbar.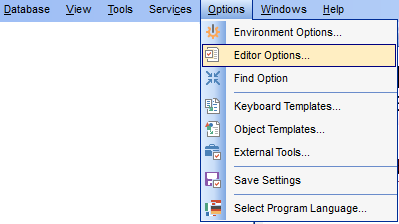 Availability:

Full version (for Windows)

Yes

Lite version (for Windows)

Yes

Note: To compare all features of the Full and the Lite versions of SQL Manager, refer to the Feature Matrix page.
---