Checking database and instance settings
This step of the wizard allows you to check the current database settings and choose between online and cold backups.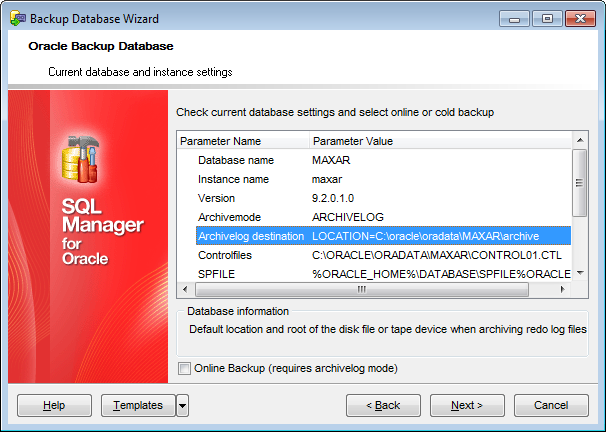 Use the list area to check the current database parameters:
Database name
Instance name
Version
Archivemode
Archivelog destination
Controlfiles
SPFILE
PFILE
DB block size
The Database information area provides extended information for the parameter currently selected in the list.

Online backup
Select this option to perform online backup. If this option is deselected, cold backup will be performed.
During cold backup the database is shut down and copying of the datafiles is performed by means of the operating system itself.
In online mode there is no need to shutdown the database but it requires the ARCHIVELOG mode.
Click the Next button to proceed to the Selecting datafiles step (if the User-managed script strategy was specified at the first step) or to the Specifying backup type and options step of the wizard (if the Recovery manager strategy was specified).