Installed plugins
The Plugins tab of the SQL Manager Plugins dialog allows you to view the list of currently installed plugins and manage this list efficiently.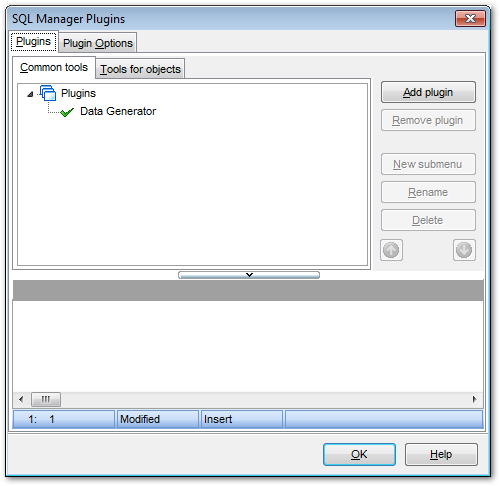 The plugins are generally subdivided into Common tools which are plugins intended for working with the program as a whole, and Tools for objects used for working with database objects. Plugins of each group are listed under the respective tabs (Common tools, Tools for objects).
The area located at the bottom displays the path to the *.dll file and the description of the selected plugin.
Add plugin
Use this button to call the Open... dialog which allows you to specify the *.dll file location and install the plugin.
Remove plugin
Use this button to uninstall a plugin selected in the Common Tools or Tools for objects lists.
New submenu
This button can be used to add a sub-node to the node selected in the Common Tools list. A plugin can be placed into the submenu and will be then available within the Plugins | <submenu_name> program menu. Therefore it might be reasonable to define a submenu name that will indicate the plugin category (e.g. Testing or Data Management).
Rename
This button allows you to change the selected submenu name.
Delete
This button removes the selected submenu.
Note: To change the position of the plugins and submenus in the list, use the


buttons or drag-and-drop operations.
---