General
General

Confirmation on exit
Enables/disables confirmation upon exiting the program.

Skip intermediate steps
This option determines the behavior of the Next and Back buttons. When this option is disabled, clicking the Next button leads to sequential passing through the list of imported objects. When this option is enabled, the steps checked in the Skipped steps group will be skipped.

Key columns reminder
Use this option to enable/disable prompts to define key columns.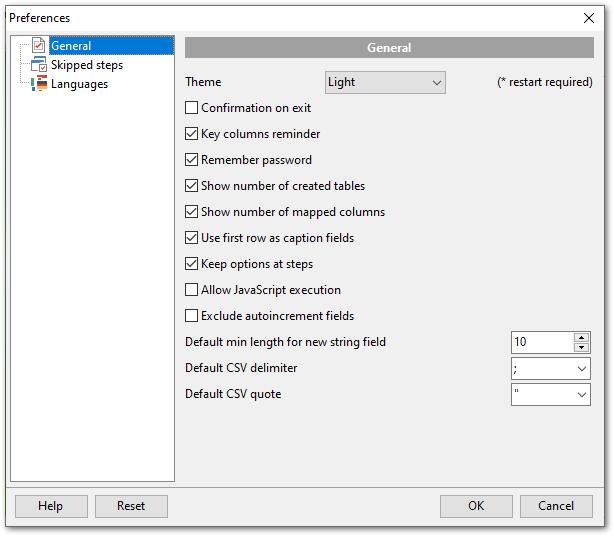 Remember password
Setting this option allows you to save passwords used for access to the databases automatically upon closing the application. Please note that checking this option saves the latest password used for connection to the database (including the SSH server password).

Show field types
Hides/displays field type description in the field list.

Show number of created tables
Use this option to allow/disallow appearance of the correspondent information window.

Show number of mapped columns
Displays the number of mapped fields on proceeding to Step 3.

Use first row as caption fields
Enable this option to use first rows as captions when mapping fields.
Analyse N rows
Define the amount of rows used for source data analysis before table creation. This analysis allows the program to define the destination table field type.

Import to Views
By setting this option on you can import data to views - they will appear in the list of available tables at the Step 2 of Wizard Application.

Keep options at steps
If this option is checked all your import settings will remain the same the next time the program is started.

Allow script execution
If this option is checked then the script entered on the Step 5 is always executed.
Skipped Steps
Use this option group to define the Wizard application steps to be skipped.
---